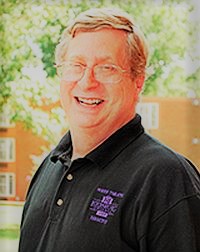 Families Living Violence Free, Welcomes Executive Director, Wally Hurst
Hurst is a graduate of Duke University (B.A.), and holds a Juris Doctor (J.D.) from the University of the Pacific, McGeorge School of Law and a Masters in Shakespeare Authorship Studies (M.A.) from Brunel University in London, England. His career includes teaching at Louisburg College, lobbying for the California State Firefighters Association, and posts as a Deputy State Fire Marshal in California, theatre director, and theatre administrator here in North Carolina. In addition to having been a firefighter/EMT in California, he has over 25 years of experience as a non-profit executive/director/manager. Wally is charged with planning, organizing, leading, directing, coordinating and managing the overall operation of Families Living Violence Free.
All of our services are "AT WILL" FREE, and CONFIDENTIAL
Families Living Violence Free does not discriminate on the basis of race, color, religion (creed), gender, gender expression, age, national origin (ancestry), disability, marital status, sexual orientation, or military status, in any of its activities or operations.
LOCATION
              125 Oxford Outer Loop Rd.     
Oxford, NC 27565
OFFICE HOURS
Monday thru Friday
8:00 a.m. – 5:00 p.m.
Families Living Violence Free is Granville County's domestic violence and rape crisis center. Incorporated as a 501(c)(3) in 2004, we are certified by the Governor's Crime Commission and the North Carolina Council for Women/Domestic Violence Commission and the designated Domestic Violence and Sexual Assault service provider to victims in our county.
Organizational Overview: Families Living Violence Free is governed by a Board of Directors which is actively engaged in determining our strategic direction, defining our goals and objectives as related to our mission, and evaluating the success of our services toward achieving our mission. The board also ensures that our resources are managed effectively with proper financial controls in place to remain accountable to our donors and the public.